source: variety.com
Scott Stewart to helm series tied to videogame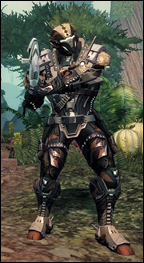 Upcoming Syfy skein "Defiance" is tied to an online video game. Syfy has tapped a helmer for its upcoming vidgame-linked series "Defiance": Scott Stewart, best known as the director of two recent fantasy pics starring Paul Bettany, "Priest" and "Legion."
The series will tie into a massively multiplayer online videogame of the same title from Trion Worlds, the Redwood, Calif.-based developer-publisher behind "Rift" and "End of Nations." Game marks the developer's first foray into console development -- previous titles have been PC-only, but the "Defiance" game will ship for PC, PS3 and Xbox.


Series is written by "Farscape" creator and "SeaQuest" scribe Rockne S. O'Bannon and has generated considerable interest after a strong showing at E3, where the companies revealed that events in the TV series would be mirrored in the game's world, and gamers got their first glimpse of the MMO's design and graphics.
One remaining question is whether gamers participating in the online world will be able to play with folks who don't have the same system; rivals Microsoft and Sony have traditionally eschewed cross-platform multiplayer, allowing Xbox 360 and PS3 partisans to play only with each other. Syfy said that "this is the ideal" but that cross-platform remains unconfirmed